Solve All Your Residential Electrical Worries at Downey Electrician Champions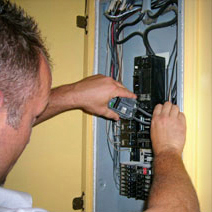 Downey Electrician Champions provide you with residential electrician Downey services. Our experienced professionals are available round the clock to fix your electrical woes quickly and with ease. Our residential electricians in Downey are adept at handling any type of electrical repairs and installations you may need. We give honest and upfront pricing with no service fees. We charge by the job, not by the hour. Phone Downey Electrician Champions today! Free Service Call. No Obligation! Live person answering the phone, cheerful and ready to help.
Why Do You Need Residential Electrician Downey?
With time being the most sought after yet restricted asset in these modern times.  We are left with no choice but to try and fix the impending troubles at our homes all by ourselves.  Whether it is a plumbing problem or an electrical dysfunction, as waiting for a team to arrive can seem to take forever. But although trying to resolve the problem yourself can be quite appealing in this scenario.  When it comes to electrical gadgets, you should be convinced that what you're doing is right and not simply fire in the dark.  Otherwise it can lead to dangerous consequences.
If it happens to be a minor routine work, such as a small connection dilemma, then you can try your hand at it. The problem arises when it is something more complex than that.  In which case you need to leave it to the professional work of a residential electrician Downey to repair it for you. In this way, you can breathe easy knowing that your job is done the right way without any further damage resulting in the process.
What are the Residential Services offered by Downey Electrician Champions?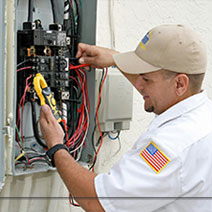 Our very efficient and productive team of professionals, that are bonded and insured. And can handle any kind of electrical repair work, be it generator installations, panel upgrades or remodeling.  Or house rewiring.  Ceiling fan replacements. Electrical renovations and more.  We can solve all of these electrical aspects and more. Thriving in this profession since ages.  We know what is best for our customers.  And accordingly provide customized solutions to all your grievances.
Our Downey residential electrician services we pride ourselves on include:
Air heating systems.
Chandelier lift fittings.
Hot tub circuits.
Fuse panel replacements.
Service panel repairs and upgrades.
Bathroom fan installations.
Kitchen electrical upgrades.
Smoke detector installations.
Recessed lighting emergency repairs.
Light fixture installations.
These are just some of the services that guarantee content and loyal customers.  Our technicians can provide you with up-to-date electrical solutions. That are not only economical but are also eco-friendly. We are always on our feet trying to ensure that our customers always acquire valuable and quick solutions. At the time of our arrival.  We start analyzing the various aspects of the problem.  Then we will properly suggest the best possible way to rectify the dysfunction. We will then provide you with a proper estimate of how much the cost will add up to.  So that way.  You are not kept in the dark and know exactly what you are paying for and why.
Thus our residential electrician Downey skills are put to the test creatively.  And we strive to do the best we can. We check out your electrical appliances to see whether they are up-to-date. And our regular maintenance services will ensure that your entire electrical system is working efficiently.
Why is Downey Electrician Champions at the Top of their Game?
Available at your beck and call, all throughout the night and day. We provide prompt advice and assistance to your electrical concerns. We provide 24 hour emergency electrical services. That are based on your budget.  As well as convenience and carry on with only those services that you are comfortable with.
Our customers are more than welcome to bring to our notice any questions they face. Especially regarding our procedures and our well experienced technicians will be there to attend to them patiently and productively.
You have nothing to worry about as all the members of our crew are well trained.  Experienced, bonded, licensed and insured. They are experts at troubleshooting your problems.  Analyzing and getting to the main electrical reason that is responsible for the technical crisis.
Downey Electrician Champions are your best and most secure bet.  Especially when it comes to a residential electrician Downey problem.  Or grievance as not only do we skillfully identify the cause but also swiftly tackle it to provide the most excellent results possible.
So get in touch with us and trust us with your home's electrical appliances and gadgets. We will put our years of expertise and experience to the test thus ensuring optimum quality and effectiveness throughout.
So call us now on (562) 445-4197 and say good bye to those annoying electrical troubles, the effective way!